Industrial & Agricultural Construction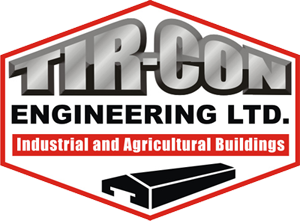 Industrial & Agricultural Construction
Beef and Dairy Units - Agricultural
Tir-con will visit the site and design each building to the farmer's specific requirements using the latest materials to enhance build quality.
Selection of Options Available
Clear Span Portals
Portal frame buildings of various widths designed fabricated and erected to the customer's specifications.
Propped Portals
A more cost effective design to clearspan portals (internal posts can be used to facilitate the erection of feed barriers and dividing gates).
Fibre Cement Roofing Complete With Ventilated Ridging
A non-drip long-lasting roof that can be used for animal housing. Also cost effective in warehouse situations where heat retention is not an issue.
Air Vent Side Sheeting
This is a new ventilation system to suit today's farm building requirements. It not only increases ventilation but allows for a smoother and more even transmission of air through the building.
See images for examples of each
---
Copyright 2021 Tir-Con Engineering Ltd